1.Boodun is a gym gloves started manufacturing factory.
in 2009, xufeng liu establish Boodun sports gloves Ltd Co and started make fitness gloves. In 2020, after seven years of development, the production department has reached the scale of 200 people, with a branch factory in the mainland and an office in shenzhen. The annual turnover has exceeded 30 million. Company after several years of hard work. In the fitness glove industry, we has a mature technology and supply chain.
Our annual sold 15 million rmb to the north American market. Yet fitness gloves account for 40% of our annual sales.
2.boodun have several material suppliers. Boodun can greatly reduce the cost of raw materials.
Due to the huge demand every year. Helping customers obtain the most competitive prices in the market. At the mean time, We can easily get familiar with the new materials in the market to meet your customers' needs. Our material warehouse have various gloves' fabric and ingredients. we can meet almost all your requirements. Like various pattern and color breathable mesh, staircase cloth, lycra and brushed lycra. Anti-slippery microfiber,suede nap and imitated microfiber. synthetic leather, real leather(deerskin, cabretta, sheepskin, bovine and so on), neoprene and so on for gym gloves.
3. research and design power.
New product release meeting twice a year, to research and develop new products according to market demand changes and fashion trends. There are professional staff to investigate the market, and a special operation team to analyze the data. At the same time, there are also staff sports experts to experience the experience of using new products and develop new products based on the views of consumers. The annual number of new products reaches 45 styles, including fitness gloves, cycling gloves, baseball gloves, billiard gloves and riding gloves.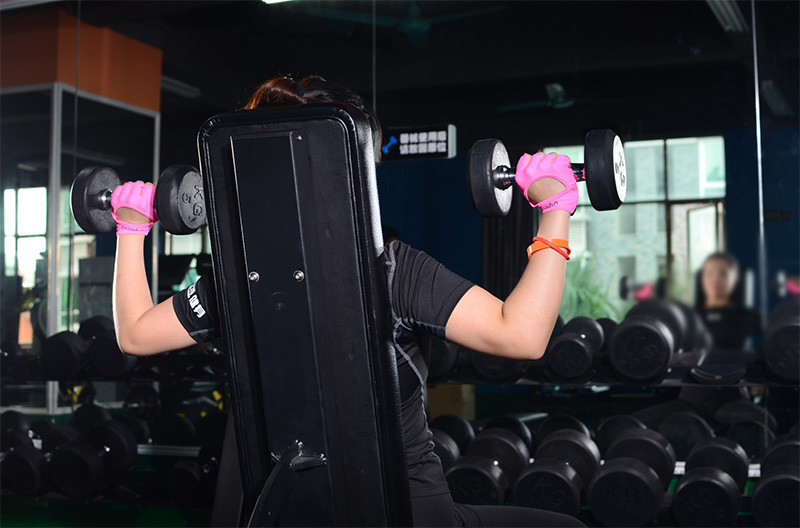 4. Quality is strictly controlled.
In the production process. When the material was cut, our quality control personnel will check the cutting situation one by one. When cutting material are printed with various customer logos, quality control personnel will also check whether the logo is clear and correct one by one. the quality inspector will also check whether the seam of the glove is complete and whether it is comfortable to wear when the glove is finished. Before loading. The QC manager shall conduct spot check on the bulk cargo and confirm it is correct before packing. In the case of repeated inspections, our defective rate dropped to 0.1%.
5. Certification and testing of fitness gloves.
Our factory is certificated by ISO9000, SGS certification. For the certification of fitness gloves products has quality certification HAP, patent certification process dye products conform to the standards, such as corrosive harmful substances. Process water fastness, acid sweat fastness, alkali sweat fastness, friction fastness and so on are in line with the requirements. In general, The utility performance of gloves is also high when the most basic conditions of health and harmlessness are met. We measured the useful life of our gloves by the sports people. Up to a year.
6. lead time.
Our company has a printing process department, so a few samples can be completed in a day. Including cutting, printing, sewing, quality inspection. The bulk factory can produce up to 2400 pairs a day.can produce 80000pairs per month. About 800000 pairs per year. Our production efficiency is very high. But due to the increase of orders, we need to arrange the time.
7. Various processes are available
Printing artwork: Rubber print, silicone print, normally PU PP NYLON ink print, stereo PU PP NYLON ink print, stretch PU PP NYLON ink print, imitated silicone print, sublimation, PVC print
Embroidery artwork: stereo embroidery, patch embroidery, flocking print, line print, pearl embroidery and so on.
8. brand partnership.
After ten years of development, many famous fitness glove brands in the world have found us, such as LGS,FOX,JITSIE,NW,LAMBD,CAMEL,MERIOA,DFEHLIE,MOTION Heat,CELTEK,IDCS,GARNEAU,KAILAS,SAGA,WARRIOR,NORTHWNE,OW.LI-NING and so on. We design and develop with them, Showing design concept, finally bringing the two sides together. And we have designed good fitness gloves one after another. Due to the successful and smooth cooperation . we have cooperated with LGS, FOX, JITSIE, NW for several years, and we will continue to cooperate and grow together in the future.